Description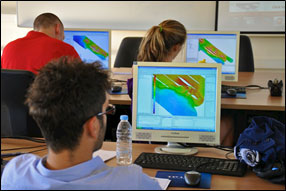 More than two-thirds of our planet consists of the marine environment, yet only a small fraction of the seafloor has been mapped in detail. A constantly evolving toolkit means few earth scientists have the fundamental and practical skills required to participate in seafloor surveys. As anthropogenic activities (e.g., mining, communications infrastructure, hydrocarbon exploitation) are progressively extending into the deep-sea, these skills will be increasingly in demand. This course will cover the state-of-the-art principles and methodologies of seafloor and sub-seafloor surveying and exploration relevant to the Earth Sciences. Participants will be introduced to a range of geophysical, visual and seabed sampling techniques, as well as commercial and open-source software for data manipulation, processing and visualisation. By the end of the course, students will have a better understanding of the basic theoretical concepts and operational foundation of seafloor mapping, which will be relevant for both commercial and academic assignments.
Date
Sunday 28 August 2016
Presenter
Aaron Micallef
Programme
1

Introduction

15

Nickerson, Micallef

2

Navigation and positioning

30

Nickerson

3

Physics of sound

45

Nickerson

4

Side scan sonar

30

Nickerson

5

Multibeam echosounder

60

Nickerson

6

Reflection seismics

60

Micallef

Break

30

7

ROV and AUV

60

Micallef

8

Sampling

60

Micallef

9

Practical

120

Micallef, Nickerson
This course is organised in collaboration with IGCP 640 (S4SLIDE) and the International Association of Geomorphologists - Submarine Geomorphology Working Group.
Registration Details
To book and pay, please use your existing registration log in (if you are already registered). New delegates can book using the registration form on the website (create your profile and register for the conference and then book your additional workshop)
Presenter Biography
Aaron Micallef

Aaron is a senior lecturer and Marie Curie fellow at the University of Malta. As a marine geologist he uses quantitative techniques to solve problems related to submarine landslides, canyons, fluid flow processes, submerged landscapes and habitat mapping. His areas of study include the Mediterranean Sea, Atlantic and Pacific oceans, where he participated in more than 15 international oceanographic expeditions. Aaron is a co-ordinator of the Seafloor Exploration Training Course and chairman of the International Association of Geomorphologists Working Group on Submarine Geomorphology. He graduated with a Masters from the University of Oxford and a PhD from the National Oceanography Centre, UK.

Graham Nickerson

Graham is a marine scientist, software designer and project manager, providing services for clients in the marine realm. His work involves offshore surveying and planning, geophysical data acquisition and processing, software design and database management. Graham runs his own company Highland Geo Solutions and is co-ordinator of the Seafloor Exploration Training Course. He graduated with a Masters from the University of New Brunswick and a BSc (Hons) from Saint Mary's University, Canada.