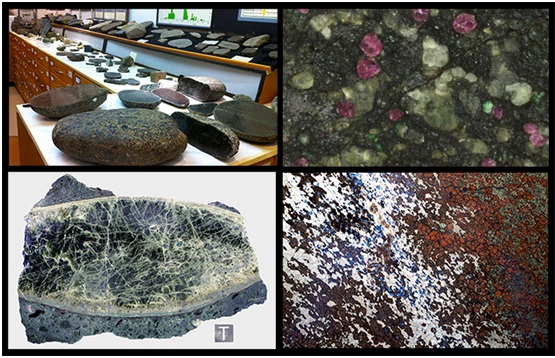 Mantle Room collection at UCT (top left); garnet lherzolite from Kimberley (top right); clinopyroxene megacryst
from the Monastery Mine (bottom left); and, kyanite eclogite from Roberts Victor Mine (bottom right).
This tour offers visitors the opportunity to visit a unique collection of mantle rocks brought to the surface in kimberlites, that have allowed researchers to piece together the nearly four billion year history of the Earth's continents. Complementing the museum-style exhibit Messengers from the Mantle: Craton Roots and Diamonds on display at the Congress, the tour will allow participants to visit the world-famous Mantle Room research collection at the University of Cape Town, which is a most extensive collection of deep Earth samples from southern Africa. It contains over 14,000 mantle and deep crustal xenolith specimens from more than a hundred kimberlites from southern Africa and across the globe. The Mantle Room has been and remains a destination for mantle researchers worldwide. They have used these specimens to provide insight about the timing and processes involved in the generation of the earliest continental nuclei, the Earth's Archaean cratons. The Mantle Room visit is intended to make interested researchers aware of the depth of the collection and its availability for collaborative research purposes.
Also key to the story behind Messengers from the Mantle are diamonds brought to the surface in kimberlites. This mineral acts as a time capsule uniquely preserving evidence of ancient processes, as well as providing information on the timing and nature of diamond formation itself. Participants will travel to the Mineral Services Group in Ndabeni, a leading mineral exploration consultancy, to view a private collection of diamond related mantle rocks. UCT scientists and experts in the field including diamond specialist Prof. John Gurney, Prof. Steve Richardson and Dr. Philip Janney, will guide daily tours. Each tour will begin at the Messengers from the Mantle exhibitionin the CTICC. Spectacular rocks and minerals from the world-famous UCT collection of upper mantle and kimberlite samples archive this display.
The tour will last approximately five hours in total duration. Transportation from the CTICC to UCT, Mineral Services and back to CTICC will be provided. A light lunch will be served to give delegates the chance to interact with tour guides. The tour will be run once per day over the five days of the Congress. The cost is R1000 for delegates and R500 for students. Advanced booking is recommended, as space is limited.
Provisional Tour Schedule:
• 8h00-8h30: meet at exhibit in CTICC
• 8h30-9h00: transportation from CTICC to UCT
• 9h00-10h00: UCT Mantle Room
• 10h00-10h30: transportation to Mineral Services
• 10h30-12h00: Mineral Services tour
• 12h00-13h00: luncheon with researchers
• 13h00-13h30: transport back to CTICC